Typically, road (or trail) (or obstacle) races are somewhat "easy" going. You can run as leisurely or as intensely as you'd like. You can set your own pace, pop in some tunes, join up with friends, and cruise along an enjoyable route. It's fun to most; addicting to many.
Not this one. This one is different.
This particular race is a 5k obstacle. We've all seen those. Many have completed one or some. They're fun. They certainly have their place in the world of running. They're great to mix up the monotony of racing and add some muscle-use diversity. But this one isn't just a 5k race. It's a 5k chase.
The zombie run, "Run For Your Lives," is making its way to Greensboro, Georgia (Atlanta?) on March 3. The concept sounds super cool, especially considering the popularity of all-things-zombie right now: Runners wear flags much like flag football and run through 3.2 miles of obstacles, water, and mud, all the while trying not to be bitten (or have your flag pulled) by a volunteer zombie. Watch out!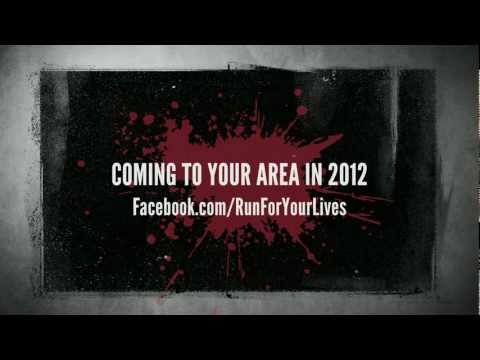 It all looks and sounds really fun. Then I start visualizing how I'd run this race. And I get discouraged. I think we all have that seed of competitiveness inside of us. I can only IMAGINE my inner competitor coming out in a try-and-get-my-flag race. I would definitely be going allllll out. So much so that I can only see myself getting injured. And I wonder if races like this result in more injuries. People are probably "going harder," running, cutting, spinning, jumping. Whatever the imagination could conjure up. All so that their flags don't get picked. I can only imagine the chaos that is an obstacle…surrounded by "zombies." No thank you. And even the name of the run is a bit daunting. Run…for my life? Couldn't we make this adventure race positive? WARRIOR dash. I've accomplished something. SPARTAN race. I'm super bad! Even Muddy Buddy makes me smile. Run for my life? I'll pass.
Is one 5k race really worth a pulled muscle, broken bone, or even worse? I'm sure they have the proper medical staff nearby and take all appropriate precautions and blahblahblahblah. But once you're hurt, you're hurt. I can tell you than when I pulled my quad, it was by far the worst pain I've ever felt. And I told myself nothing would be worth that pain again. Not even a muddy zombie race.
I'm not trying to be a killjoy. I just think that everyone runner has a responsibility to the length of his or her running career to consider the consequences of each adventure.
What do you guys think? Do you think 5k chases result in more injuries? Is it worth it? Weigh in!